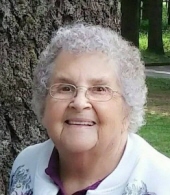 Obituary for Dorothy Lois (Reinhart) Hicks
Dorothy Lois (Reinhart) Hicks

April 17, 1933 March 13, 2017

Aumsville, Oregon

Dorothy died peacefully at home on March 13, 2017 surrounded by family. Dorothy was born on April 17, 1933 in the Silverton Hills of Oregon to John Alden Reinhart and Cedelia Grace Alexander, with 4 surviving siblings. She was married to Ernest Danial Hicks on October 22, 1949, who preceded her in death on June 19, 1993. Dorothy was the mother of 2 daughters and 6 sons, the grandmother of 31, great-grandmother of 39, and the great-great-grandmother of 6. She was known as mother and grandmother by countless other lives she touched over the years. After the passing of her husband, Dorothy went on to receive her High School Equivalency in 1996, an accomplishment we were all extremely proud of, especially her. She did so much with so little for so long and so many. She could do anything with so little for everybody.

A visitation is scheduled for Friday, March 24, 2017 from 10 am 4 pm at Weddle Funeral Chapel. A funeral service will take place at Weddles Chapel on Saturday, March 25, 2017 at 1 pm followed by a graveside service at Lone Oak Cemetery. All are welcome to attend and celebrate Dorothys life. Weddle Funeral Chapel is located at 1777 N 3rd Ave., Stayton, Oregon 97383

Flowers and condolences may be sent to 12086 Neal St. SE Aumsville, OR  97325.