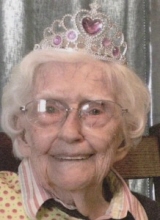 Obituary for EDITH EVELYN HAWKINS
Edith Hawkins of  Stayton, Oregon, died peacefully in her sleep Sunday morning, December 30, 2012. She was 100 years old.

Edith Evelyn (Cole) Hawkins was born April 16, 1912 in Knight's Ferry, Stanislaus County, Californiato Eady Edward Cole and Katherine Elizabeth (Meyers) Cole.

She married the love of her life, Lawrence Everett Hawkins on May 25, 1931.  He preceded her in death in 2000, the year they would have celebrated 68 years of marriage.  They were the parents of four children; Lawrence E. (Skip) (& Joan) Hawkins of Bloomington, Indiana, Miriam (& Hamilton) Brannan of Crestone,Colorado, Chuck (& Glenda) Hawkins of Aumsville, Oregon & Gerri Hawkins of Stayton,Oregon.  Edith had fifteen grandchildren, at least 44 great grandchildren and over 35 great, great grandchildren (we lost count).  Son Skip died 14 Oct 2012.

Edith comes from a long line of COLE, KELLEY, HOFFMAN and MEYERS ancestors who settled Stanislaus County,California, as early as the gold rush. She was born in Knights Ferry, as was her mother (Katherine Meyers) and her grandmother (Christina Hoffman).  She grew up in Oakdale, where she remained until her marriage to Lawrence, also a Oakdale High graduate.  They lived in Berkeley, California for about 28 years where Lawrence taught school. They retired to Watsonville ,California, where they lived until moving to Oregon in 1994.

Edith was a devoted mother, a stay-at-home mom for her entire life. She loved crafts, and dabbled at painting, but loved decorating egg shells for her Easter and Christmas trees. In her younger years she sewed frequently, making clothes for family members. We all remember the matching shirts we all had to wear during vacation. She loved to knit baby blankets, booties and hats for grandchildren until her arthritic hands no longer allowed her to do that. She loved her flower gardens, and was always thrilled with the new blooms of the season.

Memorial Services will be held at the Stayton United Methodist Church,  1450 Fern Ridge Rd. SE, Stayton, Oregon on Saturday, January 5, 2013 at 11:00 am.

Arrangements entrusted to Weddle Funeral Services Stayton, OR.