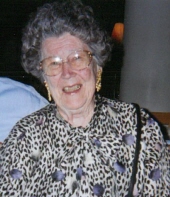 Obituary for ELIZABETH "BETH" FAIRCHILD SCHREIBER
ELIZABETH  "BETH" FAIRCHILD SCHREIBER

July 18, 1922   †   October 11, 2013

Beth Schreiber passed away on Friday, October 11th in Stayton.  She was born on July 18, 1922  in Hagerstown, Maryland.  She grew up in Hancock and graduated from Hancock High School .  She  was married to Robert Schreiber in Maryland and they moved to South Pasadena, CA where they lived before moving to Lyons, OR in 1989.  She was a member of the Pasadena Museum Society, Stayton Hospital Auxiliary Board and was a Homemaker and Catered private parties.  She enjoyed playing cards, fishing, ocean cruises and traveling, she spent her 80th and 90th birthdays with family and friends in Hawaii.  She is survived by her son, Robert "Sarge" Schreiber of Lyons; daughter, Marilyn Elizabeth Schreiber of Glendora, CA; sister, Lalla Porter of Tucson, AZ; 3 grandchildren; 3 great grandchildren; and 2 great- great- grandchildren.  She was preceded in death by her husband, Robert and son, Bill.  Funeral service will be Thursday, October 17th at 2:00 pm at Weddle Funeral Chapel, Stayton.  Graveside service will be held at Hancock Presbyterian Cemetery, Hancock, Maryland.

Arrangements entrusted to Weddle Funeral Services Stayton, OR.