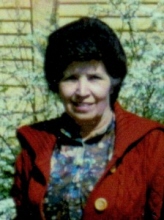 Obituary for EMMA GRACE COLLIER
GRACE  COLLIER

Sept. 30, 1923 – June 29, 2012
Idanha, Oregon

Emma Grace Collier was born at San Salvador, El Salvador on Sept. 30, 1923.  She passed away at her home in Idanha on Friday, June 29th.  She was 88.  Grace came to the United States in 1942 and was married to Walter Collier Sr. on Nov. 15, 1944 in San Francisco, CA.  They made their home in California before moving to Washington and then to Lyons, Oregon in 1951.  They moved to Salem in 1966.  She had worked at the Cannery in Stayton prior to working in food services for 15 yrs. at Fairview in Salem before retiring.  Walter preceded her in death in 2001 and she moved to Sublimity where she lived for 5 yrs. before moving to Idanha 1 yr. ago.

Grace enjoyed playing BINGO and spending time cooking for her grandchildren, she also enjoyed taking them to see the ducks at Marian Estates, going to garage sales and taking them to A & W.

Grace is survived by her son, Walter (Glenda) Collier Jr. of Idanha; 3 grandchildren, Wanda, Terrance and Anthony;  5 great grandchildren, Niki, Sarah, Anthony, Michael and Allison; and 1 great great grandson on the way .

Graveside service will be held on Thursday, July 5th at 2:00 pm at the Twin Oaks Cemetery, Turner.

Memorials may be made to the American Cancer Assoc.

Arrangements entrusted to Weddle Funeral Services Stayton, OR.