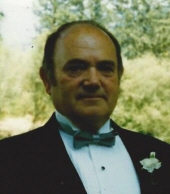 Obituary for EMMET J THOMAS
December 16, 1930 – August 31, 2013

Emmet was born in Cottage Grove, Oregon to Benjamin Stevens and Ula Fader Thomas, the 5th of their 9 children. The family moved to a large farm on Poodle Creek in the Coast Range west of Eugene where he attended a one room elementary school. Eventually the family moved to a smaller farm west of Elmira where he finished high school.

He was attending the University of Oregon when he enlisted in the Army during the Korean War. Although he was scheduled to be shipped out to Korea, his shot records were lost and due to time constraints on his enlistment he was transferred to the Medical Corp. He finished his tour of duty at Fort Ord where he was part of the team that studied and found the cause of San Joaquin Valley Fever.

He returned to the University of Oregon and received both a Bachelor of Science and a Master of Science degree. He became a teacher in the Eugene District where he worked for 35 years. He began his career at Wilson and Madison Jr. High Schools where he taught health and coached cross country, gymnastics, soccer, wrestling, and track and field. He also was a hunter safety instructor. He transferred to Sheldon High School where he taught biology. While working on an advanced degree at the University of Oregon he was a Graduate Teaching Fellow.

Emmet loved to hunt and fish and to be involved in nature. He could identify trees, flowers, and birds by their common and Latin names and he received great joy in sharing his knowledge with others. He traveled extensively on the back roads of every state west of the Mississippi, drove the Al-Can Highway to Alaska, and explored western Canada. He used his knowledge of geology, flora, and fauna to make each trip an educational adventure. He often returned with specimens to share with his students.

Emmet was taught to be self-sufficient so he could fix anything. He was the person to call whenever something needed to be done. He also loved poetry and could recite long poems by memory. He loved music especially traditional songs from Scotland, Ireland, and the United States. He was a gentleman who always thought of others and put their needs before his own. He had a very quick wit and had many "pearls of wisdom" that will be passed down through many generations.

Emmet married twice. He had three children by his first wife. He married Frances Reid in 1970 and they had one daughter. Emmet and Frances had a wonderful marriage of 43 years and were inseparable. He was preceded in death by his parents and his siblings, Donald, Robert, Woodrow, Francis, and Kathleen. He is survived by his wife Frances; children, Randall, Robert, Glen and Crystal Thomas; grandsons, Kyle, Michael, Logan, and Jack; sisters, Marjorie Olsen and Imogene Johnson; brother, Gordon Thomas; and numerous nieces and nephews. He is also survived by his faithful cat, Mighty Paws.

Special thanks are extended to Emmet's devoted care givers, Michele Anderson, Amy Dodge, and Amy Cruz and to the physicians, nurses, and staff at the Santiam Medical Clinic in Mill City.

A private inurnment will be held at the City View Mausoleum in Salem, OR. His family and friends are invited to celebrate his life at an open house at his home in Mill City on Sunday, September 22, 2013 from 2:00-4:00 P.M. In lieu of flowers, donations may be made to the North Santiam Historical Society, P.O. Box 574, Gates, OR 97346; the Mill City Fire Department, Mill City, OR 97360; or the charity of choice.

Arrangements entrusted to Weddle Funeral Services Stayton, OR.