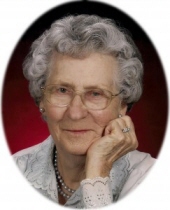 Obituary for ESTHER MARGARET RADA
November 4, 1920-July 23, 2012

Esther M. Rada was born in Los Baños, California to Harry and Isabelle Hansen. She and her twin sister Ruth were the youngest of five children.  Soon after her birth, her family moved to a ranch in Yerington, Nevada.  Esther graduated from Yerington High School, and in 1940 married Edward L. Rada of Mill City, Oregon.  She attended Oregon State University,  majoring in Home Economics.

Esther's home for 60 years was Pasadena, California, where she raised four sons.  She was an active member of Holliston Methodist Church and the P.E.O. society. In 1961, she and her  sons accompanied Edward, a professor at UCLA, to Taiwan for one year where he taught at Methodist-sponsored Soochow University.  Upon her return to the U.S. and until her passing, she was actively involved in Friends of Soochow, a philanthropic organi­zation dedicated to the support of that university.  She accompanied Edward on further sabbaticals to Italy, the Soviet Union and India. Summers were spent at their home in Mill City, where Esther was often found canning cherries, tending roses, leading campfire songs, or baking her famous apple pies and blackberry cobblers.

Esther passed away July 23, 2012 in Arcadia, California. She is survived by her sister, Ruth,  sons, Stephen, William, David and Edward, Jr., six grandchildren and eight great-grandchildren. Graveside services will be Sunday, August 19, 12:00 noon at Fairview Cemetery in Gates, Oregon where she will be laid to rest next to her beloved husband.

Arrangements entrusted to Weddle Funeral Services Stayton, OR.