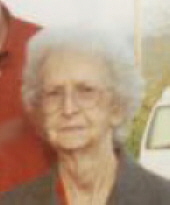 Obituary for EVELYN L. ROBERTS
EVELYN  LILLIAN  McKINNEY ROBERTS, 92.

Evelyn was born Dec. 13, 1919 in Vandervoort, Arkansas to J.W.  and Bessie Lee Garrett McKinney.  She got her schooling in the State of Arkansas.  Evelyn married Dave E. Roberts, July 12, 1939 in Mena, Arkansas.  They lived in several states during their marriage but settled in Oregon since 1947, 22 years in Idanha, and Stayton for the last 40 years.  She was a loving devoted wife, mother, sister, aunt and friend.  She had one son, David G. Roberts of Marietta, Georgia who preceded her in death in 2008.  Her husband, Dave, preceded her in death in 2000; her brother, James McKinney and sister, Geraldine both preceded her in death.

She is survived by one brother, Ralph McKinney of Cottage Grove, OR, several nephews of Oregon; daughter in law, Dru Roberts of Marietta, Georgia.

A Graveside service will be held Friday, October19, 2012 2:00 P.M. at Weddle Funeral Chapel with interment at Lone Oak Cemetery in Stayton.

She now rests with her husband, Dave, of 60 years.

" Together in life on earth, together for eternity in Heaven."

Arrangements entrusted to Weddle Funeral Services Stayton, OR.