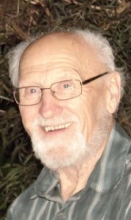 Obituary for EVERETT FOSTER RICHEY
EVERETT  FOSTER  RICHEY

October 19, 1929 – June 9, 2012
Lebanon, Oregon

Everett Foster Richey was born Oct. 19, 1929 in Philadelphia, Pennsylvania.  He passed away on Saturday June 9th at Salem.  He was 82 years of age.  Everett lived in Chicago before moving to Oregon as a child.  He lived in Stayton  before moving to Lebanon 12 years ago.  He enjoyed scuba diving, wind surfing, swimming and fishing and he loved animals.  He had served in the US Army during the Korean Conflict.  He worked 20  years as a General Agent for American Guaranty . He was well known by many in the Willamette Valley having sold life insurance policies.

He was preceded in death by his son Robert Richey.

He is survived by his sons, Rick (Beverly) Richey of Aiea, Hawaii, Michael (Diana) Richey of Lebanon; sister, Mary Florey of Costa Mesa, California; 6 grandchildren, Brittany, Shawn, Justin, Nathan, NeAnn and Miranda; and 2 great  grandsons, Austin and Aiden.

Memorial service with military honors will be held on Friday, June 15th at 3:00 pm at the Fairview Cemetery, Gates, OR.

Memorials  to the Humane Society.

Arrangements entrusted to Weddle Funeral Services Stayton, OR.