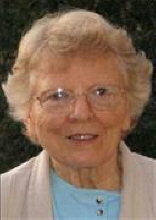 Obituary for Elaine Sarah Pope
Elaine Sarah Pope

February 4, 1923 February 26, 2016

Aumsville, Oregon

Aumsville, OR Elaine Sarah Pope left her temporary life behind and began eternal life with her Savior on February 26, 2016 at the age of 93. The youngest of two daughters born to Louis Leo and Sarah Emma (Foster) Meyer, Elaine was born on February 4, 1923 in Cambridge, Nebraska. The family relocated to Oregon in April of 1937 and settled in Independence, where Elaine graduated from high school in 1940. In 1941, Elaine met Vernon Pope and they dated for about a year before marrying in Dallas on December 30, 1942. They were married for just over 72 years at the time of his passing in 2015 an incredible legacy! Elaine was a dedicated wife and mother. In addition, she worked various clerical jobs, and then as a teachers aide at Aumsville and West Stayton Elementary schools. Elaine was a longtime member of Bethel Baptist Church in Aumsville. When she wasnt busy volunteering at the church, Elaine enjoyed working on puzzles, baking, decorating cakes, bird-watching, gardening, and crafting. Elaine was loving, patient, generous, and a friend to all. These virtues, along with her mischievous sense of humor will be greatly missed. Elaine is survived by her son Dennis (Gloria) Pope of Roseburg; daughters Marilyn Pope of Aumsville and Shirley (Michael) White of Lebanon; 3 granddaughters and one great-granddaughter. She is preceded in death by her husband Vernon; her parents; and her sister, Maxine Pope. A celebration of Elaines life will be held at Bethel Baptist Church in Aumsville at 2:00 PM on Saturday, March 19, 2016. At Elaines request, she was interred at the Aumsville Cemetery. In lieu of flowers, contributions may be made in Elaines memory to Bethel Baptist Church of Aumsville, or to the . Arrangements by Weddle Funeral Services.