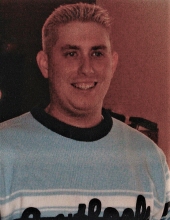 Obituary for Eric Robert Goodspeed
Eric Robert Goodspeed was born June 12, 1977, in Hampton, Virginia, to Jeffery Elliot and Sandra (Brown) Goodspeed. He spent his younger years in Virginia, but then relocated often growing up in a military household. The family even lived in Turkey for a few years and eventually ended up in Puyallup, Washington, where Eric attended and graduated from Franklin Pierce High School. From Washington the family moved to Arizona for a time before returning to the Pacific Northwest and settling in Mill City, Oregon.

Eric was very outgoing and loved to interact with people. He had a great sense of humor and an answer for everything! If something interested him, he would read everything he could on the subject and learn as much as possible. Eventually he would lose interest and move on to another subject, but the two things he never lost interest in were airplanes and trucking. Eric drove truck his whole adult life and was able to see much of the US and had incredible experiences. He also invested many years into his passion for airplanes, building his own flight simulator, spending countless hours in virtual flight.

Another thing that Eric was known for was his love of animals. The family had many pets over the years, and he had a special bond with each one. One time, when the family was living in Arizona, Eric found a little lizard adhered to a sticky trap. It took him a couple of hours, using olive oil, working meticulously to free the tiny creature, but he finally freed it and returned it outside. That's just who Eric was.

In the early morning hours of August 16, 2020, Eric unexpectedly passed away. He was preceded in death by his grandpas Lloyd Brown and Sam Rankin, and aunts Deborah Brown and Connie Brown. He will be deeply missed by those who love him including his mom Sandra (Dennis) Schlabach, stepdad David mast, grandma Joanne Michael, aunt Laura Rubio, uncle Robert Brown, and aunt and uncle Irvin (Sandi) Schlabach.

The family will celebrate his life privately. In honor of his love of animals, the family requests that in lieu of flowers, donations be made in Eric's name to your local humane society.