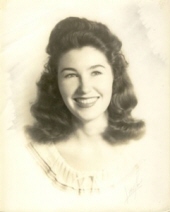 Obituary for Evelyn Chris Christine Darst
December 5, 1923 July 26, 2014

Evelyn Chris Christine Darst, daughter of Thomas and Susie Jane Metcalf, passed away peacefully at the age of 90, on Saturday, July 26th, 2014 surrounded by her family at Farmington Square Senior Care Community. She is survived by her sister Joyce Johnson, two sons David and Donald Darst and her four daughters Rose Holland, Linda Kessel, Bonnie Johnson and Dianna Knee. Chris is also survived by eight Grandchildren and eight Great Grandchildren.

Chris was born on December 5th, 1923 in Newton, Newton County, Texas.  She was one of six children, and had four brothers and a younger sister.  As the oldest daughter she helped her mother manage their household.  She also loved working in the fields side by side with her beloved father and brothers on those hot summer days in East Texas.

Chris married a career Navy man, WO1 Myron G. Darst, on June 15th, 1946 in Orange County, Texas, who she affectionately called Pumpkin.  During Myrons 20 years of service they lived in many states across the United States, from California to Maryland, from Rhode Island to Louisiana and then on to Oregon in 1956. Chris was a very active housewife as you can image with such a large family. She loved to cook and  work in her yard and garden, and did so through the age of 86!  She was no stranger to garden tools and wasnt afraid of climbing ladders either. Having a very large yard, Chris would hop on her riding lawn mower, wearing a big floppy straw hat, driving with one hand and holding a glass of ice tea in the other hand.

Besides her yard work she enjoyed reading her books. She read book after book and owned a beautiful collection of leather bound books written by Louis Lamour. She also loved music from the Great Band Era and singing gospel songs from her mothers old church hymnal.

Chris was diagnosed with Dementia in 2012.  We would like to thank Farmington Square Senior Care Community and Hospice Care of the Northwest for their compassionate care. Chris was preceded in death by her husband Myron G. Darst, four brothers Arvid, George, Doyle and Burt Metcalf, and her parents Thomas and Susie Jane Metcalf.

Funeral Services will be held on Thursday, July 31, 2014 at 10:30 A.M. at Weddle Funeral Chapel, Stayton, Oregon followed by a Graveside Service at Lone Oak Cemetery across the street from Weddle Funeral Chapel.

Arrangements entrusted to Weddle Funeral Services Stayton, Oregon.