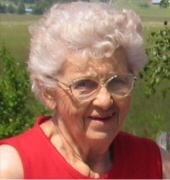 Obituary for FERN P. STONE
April 2, 1924 July 12, 2013

Born in Hardin, Montana to Vernice and Georgia Clark, Fern was the oldest of three daughters. She moved to Mill City, Oregon when she was 17, graduated from Mill City High School, and was a member of the Mill City Presbyterian Church. She married Edwin Stone on June 14th, 1946. Fern worked at the Stayton Cannery for 19 years. Her interests included family, gardening, reading, and watching sports of all kinds. She was preceded in death by her loving husband Edwin Stone, and sisters Shirley and Bonnie. Fern is survived by two daughters, Sharon Setzer (Louie) and Shirley DeVos (Gary). She has two grandsons, Ed Setzer (Maria) and Grady Setzer. Three great-grandchildren; McKenna, Edwin, and Ellenia. She will be greatly missed. Graveside service to be held at Fox Valley Cemetery on Thursday, July 18th at 11:00 in the morning. In lieu of flowers, the family suggests contributions to the charity of ones choice.

Arrangements entrusted to Weddle Funeral Services Stayton, OR.