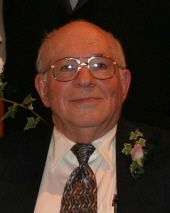 Obituary for FRANCIS V CLARK
November 8, 1930 February 23, 2013

Francis V. Clark, 82, graduated into the waiting arms of his Savior surrounded by his loved ones.  He was born November 8, 1930 in Stayton, Oregon.  He grew up on his parents ranch in Mill City, Oregon.  He graduated from Santiam High School in Mill City in 1949.  He also attended Oregon State University.  In 1954 Francis started working for the Oregon Department of Transportation, Highway Division.  He retired in April 1993 after 38 years.  Francis married Colleen Tschauner in Salem, Oregon.  He loved her so much.  He was a member of Bethel Baptist Church in Aumsville while raising his family and later joined First Baptist Church in Salem.  His church family was very important to him.  He had a heart for Jesus and he wanted his family and friends to be with him in heaven.  Francis started his life long hobby of stamp collecting when he spent the summer at Shriners Hospital in Portland following a surgery at age 12.  He also loved to collect books, especially on Christianity and History.  He could always be found at the annual YMCA and Salem Library book sales.  Francis and Colleen enjoyed traveling around the US to his Clark Cousin Reunions, and taking cruises to Alaska and through the Panama Canal.  He loved taking family and friends to Opal Pool and sharing his knowledge of the history of the area.  He was a member of the North Santiam Historical Society.  Francis was preceded in death by his parents, Verne and Maud (Braden) Clark.  He is survived by his brother Herschel Clark, daughters; Lana (Thomas) Davis, Verna Brawley, Deana (Michael) Cornforth, Charline Combs, Grandchildren; David, Caitlin, Megan, Joshua (Kate), tommy, Jessica(Eric), Jennifer, Titus, Trent, Hannah, Crystal and Kyle, Great Grandchildren; Scotia, Zealand and Yasmine.  The family would like to thank the staff at Marian Estates, Santiam Unit, the doctors and nurses at Salem Hospital, Odyssey Hospice and First Baptist Church for their care and support.  A Memorial Service will be held at Salem First Baptist Church on Tuesday, Feb. 26, 2:00 P.M.  Graveside service will be Wednesday, at 11:00 A.M. at Fairview Cemetery in Mill City.  In lieu of flowers, remembrances may be made to First Baptist Church, Set Free Building Fund.

Bethel Baptist Church Website: http://www.bethelaumsville.org/

Arrangements entrusted to Weddle Funeral Services Stayton, OR.