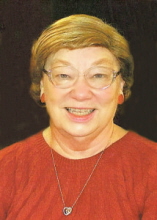 Obituary for Frieda D. Bladorn
Frieda D. Bladorn

Dec. 4, 1934 – Jan. 19, 2016

 Turner, Oregon

Frieda Bladorn was born in Hardy, Nebraska on December 4, 1934 to Dale and Hazel Patterson. She passed away on Tuesday, January 19, 2016 at home in the care of her family. She was 81 years old.

Frieda moved with her family to Salem in 1946. It was in Salem that she met Richard "Dick" Bladorn, who, on April 14, 1952 became her loving husband. Together they raised five children.

Frieda worked at American Trust Banking in San Francisco, First National Bank in Portland, and the SAIF building coffee shop in Salem. After retirement, she and Dick volunteered with the Mobile Missionaries Assistance Program for 14 years. She enjoyed traveling, baking and spending time with her family and friends. She was "Gramma" to not only her own grandchildren, but the friends of her grandchildren too. She welcomed them all as her own. She was very active with Calvary Baptist Church in Salem, where she was a longtime member. Her church family gave her much joy and she was well known there for her cookie contribution to any event that required cookies!

Frieda is survived by her husband of 63 years, her five children, 15 grandchildren, 9 great grandchildren, her brother Don, sister Dee, and many extended family members. She was preceded in death by her sister Linda.

A celebration of life will be held at Calvary Baptist Church, 1230 Liberty St. SE, Salem, on February 6, at 12:30 PM.

Contributions in her memory may be made to:

Rainbow Acres

2120 Reservation Loop Road

Camp Verde, AZ 86322-8408

Arrangements entrusted to Weddle Funeral Services.