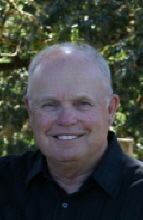 Obituary for GARY WALLSTROM
Gary Lawrence Wallstrom
September 25, 1946 December 4, 2012
Turner, Oregon
Gary Lawrence Wallstrom died December 4th in Bend, Oregon following a tragic accident.
Gary was born on September 25, 1946 in Oakland, California, the youngest of four boys. Gary was a man who worked hard and loved to stay busy, but also loved to have fun. He began his career in banking and was transferred to Chico, California in 1967 where he met the love of his life, Patricia Bunch of Chico. They married in 1968. He was drafted into the Air Force shortly after moving to Chico, and served 4 years at a radar station in Lewistown, Montana. Gary and Patricia moved to Oregon in 1971 where he continued his banking career at Western Security Bank in Salem, and later became a part owner of Western Interiors in Turner. He retired in 2002 but never stopped finding ways to stay busy. He was on the Cascade School District board for many years; he became an avid RVer and served as chairman of Outdoor Resorts and Desert Shores in Indio, California; he was a very active member serving on many committees at Stayton United Methodist Church; and he served on the board and as Chairman of the board for the Marion-Polk Food Share for many years. In his spare time, he loved to work on his property raising a few head of cattle, growing wine grapes, landscaping, and attempting to shoot any gophers that dared to destroy his landscaping. He enjoyed camping, talking about cars and just about anything mechanical, and visiting with family and friends. Everywhere he went, Gary had a knack for making life-long friends and he is loved by all who knew him.
Gary is survived by his wife, Patricia, his two daughters, Jennifer Winans and her husband Chris, Karen Safford and her husband Scott all of Bend, Oregon, and 5 grandchildren. He is also survived by his brother Richard of Jasper, Georgia. He was preceded in death by his parents and two of his brothers, Art and Donald.
A celebration of life will be held Friday, December 7 at 2:00 pm at Stayton United Methodist Church 1450 Fern Ridge Road, Stayton Oregon. His family requests that in lieu of flowers, donations be sent either to The Marion-Polk Food Share or Stayton United Methodist Church, in Memory of Gary Wallstrom.

Arrangements entrusted to Weddle Funeral Services Stayton, OR.