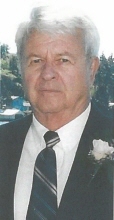 Obituary for GEORGE E. MIELKE
GEORGE  E.  MIELKE

Nov. 3, 1923   †   Oct. 13, 2013

George Mielke, 89, of Albany died Sunday, Oct. 13th at Good Samaritan Regional Medical Center in Corvallis.  George was born in Bellingham, WA to George and Gweneth (Davis) Mielke.  They moved to Stayton, OR where he attended all 12 years of school.  He was very athletic earning 11 out of 12 Letters in sports.  He attended University of Oregon and enlisted in the Army.  He served in WWII.  He fought in the Battle of the Bulge.  George earned the rank of Captain of the Paratroopers in the Airbornne Division.  He made 18 jumps, one in Germany.  He earned two Purple Hearts and one Bronze Star.  He also attended Officer Candidate school.  George married Henrietta Lyons in 1946.  They raised their family in Albany.  He retired from Wah Chang after 31 years of service.  George was preceded in death by his loving wife, Henrietta, and brother, Charles.  He is survived by his daughters Carolyn Boyd and Patricia Herman both of Albany; grandchildren, Lisa Dumdi and Chris (Cari) Boyd; great grandchildren, Cody, Brayden, Kealy and Kavan; brother, Richard.  He was a loving husband and father.  Funeral services will be held on Sat. Oct. 19th at 1:00 pm at Weddle Funeral Chapel, Stayton.  Vault interment following with military honors at Fox Valley Cemetery, Lyons.

US ARMY HONOR GUARD- Folding/Presentation of flag

PATRIOT GUARD RIDERS   Escort and flag line

LEBANON AMERICAN LEGION POST #51 21 gun salute firing detail

Arrangements entrusted to Weddle Funeral Services Stayton, OR.