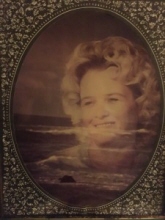 Obituary for GLENDA JOLENE HERRING
Glenda  Jolene Herring-Crivella
September 30, 1937 January 13, 2017

Glenda Jolene Herring- Crivella, born September 30, 1937 in Hollis,  Oklahoma. She passed away on Jan. 13th at the age of 79.
The daughter of Tommy and Velma Arnold.
To  Family and friends, Glenda was the rock in this family.  Speaking as her son, she is the reason I am the man I am today, she taught me discipline, respect, honesty, and everyone who knows me I am all that.
 Glenda had three children;  2 daughters, Joy Miller and Sheri, and one son, Stan Harrison.
Glenda was such a strong person,  she really was , she used to be a manager at the Silver Inn, and she wasnt afraid of anyone,
she stood 411 but could back anyone down. She was a great pool player ,
she played for Magoos Tavern and they always went to play in Las Vegas to just about every year.
She was the kindest and sweetest person you could ever meet until you made her mad, then run. lol .
Really, there just arent enough words to describe her she was just that awesome.
Her husband Joseph Crivella will miss her deeply, as well as her whole family.
  A Celebration of Life is pending.