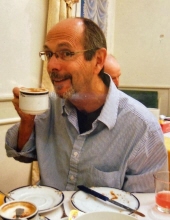 Obituary for Gary Evans Watts
Gary Evans Watts (age 75) is not the type of man who can be summed up by a list of accomplishments or statistics. He was a generous, kind and loving husband and father of two daughters. But he was also a man who loved to laugh and make everyone else in the room laugh. His sense of humor was goofy and infectious, and that is why there are so many family members and friends that loved him. He is the kind of man and father that makes you happy to sit down, have a cup of coffee or dinner, go on a hike or to a concert or sports game.

Gary met his future wife Barbara when he saw her from a distance in a parking lot. It was love at first sight and he knew that he couldn't let her get away. He introduced himself, and six months later they were married. They spent 37 wonderful years together.

Spending time with family and friends was one of Gary's favorite things to do. He was a great listener with the biggest, most generous heart. The joy and energy that he had for living was inspiring. He always had an adventurous spirit that our family shared through travels around the world. His favorite places to visit were Italy and Hawaii. He was a foodie and always managed to order the most delicious dish that a restaurant had to offer. He loved the Oregon coast and mountains, hiking and biking. Even into his 70's he remained active and adventurous. His bright personality and light will be missed by all who knew and loved him.

One of Gary's greatest accomplishments was during his career as a Public Defense Attorney. In the 1970's, he was the first attorney in Georgia to successfully have the death penalty against an African American man overturned. He was a man of integrity, and he had a servant's heart. Much of his career was spent as a Juvenile Defense Attorney, and he took great pride in helping the youth who found themselves in tough situations. He always rooted for the underdog.

In the end, Gary told his daughter Bethany, "I've lived a great life." He truly has and these memories will stay with his family and friends forever. His family is so grateful to know that he will rest at peace with his beloved wife, Barbara.

Gary's mother, Vera Watts (Duncan), father Rufus Watts, brother Larry Watts and beloved wife Barbara Watts (Scholz) preceded him in passing. He looked forward to being reunited with them. He is survived by his beloved daughters, Bethany Estrada Watts (husband, Marty) and Allison Watts; and his brother, Mike Watts.