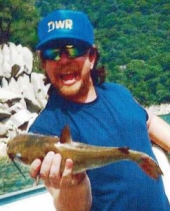 Obituary for George Rocky Dell Bullard
George Rocky Dell Bullard

April 14, 1956 October 20, 2014
Lyons, Oregon

George Rocky Dell Bullard died peacefully at his home in Lyons, Oregon on October 20, 2014 at the age of 58. Rocky was born on April 14, 1956 in Bakersfield, California to George and Ornell (née Madison) Bullard. After graduating from Bakersfield High School, he worked as a purchasing agent for the Department of Water Resources first in Bakersfield, California and then in Oroville, California. He married Becky (née Bachman) Bullard on January 30, 2003 and they celebrated more than seventeen years together. Rocky was a proud member of the Harley Owners group as well as the E. Clampus Vitus. Rocky is survived by his loving wife; Becky Bullard, children; Dustyn (Jeanna) Bullard, Daina (Michael) Miley, and step-son Jason (Melissa) Boardman, step-dad; Harry Hackney, siblings; Karl Bullard, Eddie Bullard, Jack Kimmich, Vance Hackney, and twelve grandchildren. He will also be missed by his beloved dog, Cisco. In lieu of flowers, contributions can be made to the American Heart Association.

Arrangements entrusted to Weddle Funeral Services Stayton, OR.