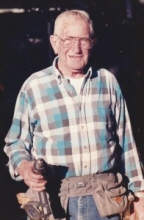 Obituary for George Russell Warmoth Jr.
George Russell Warmoth Jr. 

May 1, 1927 August 8, 2015

Scio, Oregon

George Russell Warmoth Jr., 88, passed away on August 8th at the Samaritan Albany General Hospital. He was born in Middletown, Ohio on May 1, 1927 to George Russell Warmoth Sr. and Helen Mae (Mobley). George was on of five siblings and is survived by his sister Evelyn Mertz and his brother Jimmy. George and his wife Sylvia resided in California where they were blessed with eight children and twelve grandchildren. His father, mother, six siblings, and one daughter are predeceased. 

George was a Marine through and through and served his country with honor for over twenty years; serving in Japan, Okinawa, Korea and Vietnam. George retired in 1968 as Chief Warrant Officer. After retiring from the Military he worked twenty years for the Escondido School district in California. In 1997 George married his current wife Sherry and they moved to Scio in 2005. George is survived by Sherry and her two children and four grandchildre. 

A Celebration of Life will be held at 1:00 PM on Saturday, August 15, 2015 at the Waterloo Park with a Military Honor Guard in attendance. The service will be followed by a picnic pot luck. Memorial Contributions may be made to the American Cancer Society.

Arrangements entrusted to Weddle Funeral Services.