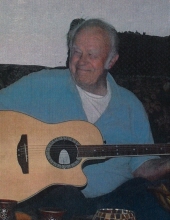 Obituary for Gerald Andrew Bouck
Gerald (Jerry) Andrew Bouck was born September 29, 1934, in Valley City, North Dakota, to Andrew and Elizabeth (Syvertson) Bouck. He grew up in North Dakota, attending Coleman School in rural Barnes county and graduating from Rogers High in 1952. He worked at Duffy Motors, Giesler Implement, and for Gorman King erecting steel buildings prior to attending Jamestown College where he studied pre-engineering. He moved to Seattle and worked for a time as a draftsman at Boeing Aircraft, where he met his future wife Manya Sulewski. The couple were married for ten years and had three children together. During that time he was drafted into the US Army where he served 2 years. After his discharge in 1960 he worked building houses in Valley City. Jerry and Manya moved to Grants Pass, Oregon, where he was a Custom Home builder, but when the marriage ended, he headed back to North Dakota.

Jerry worked for a while as a long-haul trucker traveling all over the United States. He was also a carpenter by trade and took great pride in his work and was a perfectionist when it came to his trade. Later, after he returned to North Dakota, Jerry worked all over the United States as a Superintendent for new construction on motels for many companies, including Tharaldson and Super 8 builders. While living in North Dakota, he met and married his second wife Delphine Haas and added two stepchildren to his family. The two were happily married for 34 years until Delphine passed away in 2007. After Delphine's passing he moved to Grants Pass, Oregon to be closer to his children.

Jerry's passion in life was sharing the love of God with all people he met. Jerry enjoyed country and gospel music, and his Harley Davidson motorcycle. He loved cruising the open road and seeing the countryside from the seat of his bike and he continued to ride until just about six months before his passing. Jerry could do just about anything, and he wore many hats throughout his life. He spent the last several years in Lebanon, Oregon, living a peaceful loving life with his partner Veronica Teshera. Jerry was an exceptionally kind, loving, and gentle man who loved the Lord.

Although he is now at rest in the Lord, Jerry will be profoundly missed by those he leaves behind here on earth including his children Michael (Mickey) Andrew Bouck (Gina) and Jennifer Ann Pindar (Craig); stepdaughter Brenda Wahl (Rob); siblings Jan Fox and John Bouck, 8 grandchildren; and 13 great-grandchildren.

He was preceded in death by his parents, Andrew and Elizabeth Bouck, brother Kenneth Bouck, son Steven Bouck, and stepson Brian Straus.

Jerry will be laid to rest with his parents in North Dakota where a service will be planned for a later date.