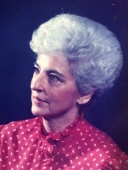 Obituary for Gladys S. May
Gladys S. May

Nov. 29, 1919 Oct. 25, 2016

Gladys May was born on November 29, 1919 to Jack and Sophia Magel in Winnepeg, Canada.  She passed away on October 25, 2016 at the age of 96.  As a child, Gladys came to the United States with her parents.  She had worked as a meat wrapper for Safeway, albertsons and Big C Markets in Portland before retiring in 1980.  She has lived in Broadmead, Amity, Salem, Portland, Eugene, Medford, Belknap Hot Springs, Newberg and (Charbonneau) Wilsonville before moving to Beaverton in 2010.  She enjoyed traveling and gardening.  She is survived by her sons, Michael and Randy Sikorski; daughter, Stephanie Brown; brother, Jack Magel; sisters, Rhoda Hollway, Lou Temple and Sylvia Phillips; 7 grandchildren; 10 great-grandchildren; and 2 great-great grandchildren.

Funeral service will be held Sat. Oct. 29th at 11:00 am at Lincoln Memorial Chapel 11801 SE Mt. Scott Blvd. Portland.

Interment will follow at Lincoln Memorial Park Cemetery.