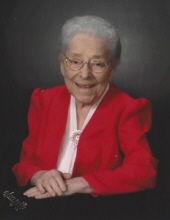 Obituary for Grace Marie Relf
Grace Marie Relf

July 15, 1913 June 10, 2016

Stayton, Oregon

Grace Marie Relf was called home to be with Jesus on Friday, June 10. She was a beloved wife, mother, grandmother, and teacher. She was born in Chester, South Dakota on July 15, 1913 to Chris and Amanda Sorensen. She loved kids, music, travel, and her community. She will be sorely missed.

Arrangements entrusted to Weddle Funeral Services.