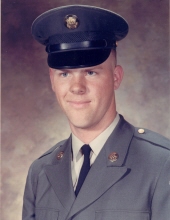 Obituary for Guy E. Backus
Guy E. Backus14 December 1949 - 03 February 2020Sweet Home, Oregon Guy Edward Backus passed away on the afternoon of 03 February at his home in Sweet Home, Oregon, age 70 years, after an illness of several months. He was born on 14 December 1949 at the U. S. Navy Dispensary, Naval Station Tongue Point, Astoria, Ore.

 Being from a Navy family, while growing up he lived in Japan and at several locations in California before permanently moving to Seaside in 1965. He lived in Salem for many years prior to moving to Sweet Home. He graduated from Seaside Union High School in the Class of 1968.  He was a 12-year veteran of the U. S. Army and served in the Vietnam conflict, at Fort Wainwright, AK, Wiesbaden Army Base, Germany, Fort Campbell, KY, and Fort Bragg, NC.

He loved to hunt and fish, enjoyed watching classic movies and professional wrestling.

  He is survived by his wife, Joy Farley Backus; his father, Gouverneur C. Backus, Seaside, Ore.; brother, Charles S. Backus, Seaside, Ore.; sister Tara B. Ruth and husband Dennis, Corvallis, Ore.; daughter, Becky L. Hagan, Weiser, Id.; son, Charles E. Backus, Weiser, Id.; grandchildren, Jasmine Hust, Baker City, Ore., Kameron Pierce, Mountain Home, Id., Chelsie Backus Portland, Ore.; great-grandson, Carson Backus, Portland, Ore.; an uncle, John C. Riley, Oregon City, Ore.; three nieces, two great-nieces, two great-nephews, and cousins; step children, James Bradford, Lebanon, Ore.; Jesse Rincon, Willimina, Ore.; Maria Rincon, McMinnville, Ore.; He was preceded in death by his mother, Shirley Aline Riley Backus in June 2016. 

A memorial marker will be placed at Willamette National Cemetery in Portland, Oregon with private family services. Weddle Funeral Service in Lebanon is in charge of arrangements.


Events