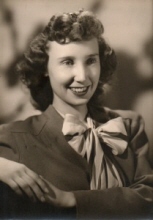 Obituary for H. DEANE QUERY
Oct. 16, 1920 – Dec. 8, 2012
Sublimity, Oregon

Deane Query was born on Oct. 16, 1920 in Larned, Kansas.  She was the daughter  of Charles and Viola Zook.  Deane passed away on Sat. Dec. 8th in Sublimity.  She was 92.  Deane grew up in Kansas where she graduated from high school.  She moved to Witchita then during WWII she moved to Southern  California where she met Ronald Query  in 1946, having both worked at Grand Central Aircraft. They were married in 1947.  They lived in Panorama City, California before moving to Sublimity in 2005.   She was gregarious, and family and friends meant everything to her.  She was active at the Stayton United Methodist Church and enjoyed singing in the choir.  She had a beautiful soprano voice.  She enjoyed travels to Hawaii, Tahiti, The Caribbean, camping with relatives, arts and crafts.  She was always eager to try something new, and as an adult taught herself to paint and play the guitar.  She also sewed clothes for her family.  She loved major league baseball, especially the L.A. Dodgers.    Ronald preceded her in death on Nov. 13, 2011.  She was also preceded in death by her daughter, Diane Horton in 2002.

Deane is survived by her daughters, Janet (Jim) Thomas of Sublimity, Debra (Lance) Haverkamp of Black Forest, Colorado; son-in-law Ken Horton; brother, Ronald (Sylvia ) Zook of Sublimity; 3 grandchildren, Sarah, Jeffrey Horton and Eric Haverkamp; 2 step grandchildren; and 3 step great grandchildren; many nieces and nephews.

Memorial contributions may be made to the music program at the United Methodist Church.

Deane was a wonderful person who loved her Lord and family.  She also loved to write poetry and laugh.  She was the best Mom ever.  Job well done Mom, Rest in Peace.

Funeral service will be held on Wed. Dec. 19th, 11:00 am at Weddle Funeral Chapel, Stayton. Interment will follow at Willamette National Cemetery in Portland.

Arrangements entrusted to Weddle Funeral Services Stayton, OR.