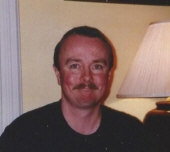 Obituary for HAROLD A. McALISTER
November 4, 1955 – December 10, 2014
Stayton, Oregon

Born in Astoria, Oregon to Harold and Gladys McAlister, he graduated from Stayton High School and lived in the Stayton / Salem area most of his life.   He worked at Stayton Cannery (now NORPAC) for many years and also worked and just retired from Quest Diagnostics.  He loved sports and played most them.  His pets were a special part of his life.  Remembering Harold McAlister, he was a man whose presence always brought smiles to any room he entered.  Harold had a knack for finding humor in almost anything and a way of helping others to do the same.  He could tell a story like no other and had a way of making simple phrases like "well Hello there" a lasting memory only heard through his voice.  Family gatherings were seldom complete without a story about growing up with Harold…. like the time he climbed a pole to the ceiling of a grocery store or sprayed unsuspecting boyfriends with water through the screen door.  Whether being chased by the family rooster while wearing a Superman costume or looking for snow flurries in the wood grain of a TV cabinet his presence was always welcomed with a smile.  Above all else, his love for his friends and family was felt by all and only matched by his love for animals.  Our loss is great and will only be tempered by the memories he left with us.  He will be missed by his siblings; Jack McAlister, Idafay Curtis and Adelia Hofeld, his wonderful In-laws and many Nieces and Nephews.  A private memorial service will be held.  Contributions: Willamette Humane Society.  A

Arrangements entrusted to Weddle Funeral Services Stayton, OR.