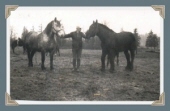 Obituary for HAROLD EARL MILLARD
February 3, 1939 – Aug. 6, 2012

JEFFERSON – Harold Millard was born to Hugh and Wilhelmina Millard at home on Feb. 3rd, 1939.  Harold grew up in Jefferson and attended Jefferson High School.  He always had a love for horses.  He had the ability to coax a horse to do anything, even dance.  For many years the logging skills of his teams of draft horses were well known to the loggers.  He later retired from Young and Morgan as a log truck driver.  He enjoyed fishing and especially eating the fish he caught.

He is survived by his sons, George of Mill City, Scott of Sacramento, CA; daughters, Tracy and Karla both of Washington; brothers, Louis and William; sisters, Laura Meador, Jennifer Millard and Verna Travis,  10 grandchildren and 10 great grandchildren . He was preceded in death by his sister, Doris Grizzel.

A Private Graveside service was held at Fairview Cemetery in Gates.  The family apologizes for keeping this from his many friends but due to circumstances it was necessary to prevent further harm to his estate from an unscrupulous individual.

Arrangements entrusted to Weddle Funeral Services Stayton, OR.