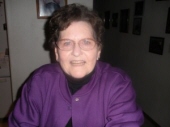 Obituary for HAZEL K. SIEG
HAZEL K. SIEG

10-16-39 to 6-3-12

Our loving mother peacefully passed away from  COPD on June 3rd.

She was born in Oklahoma, moving to California when she was 14 and then moving to Oregon in 1960.

She worked 30 years for the State of Oregon, Employment Department before retiring 20 years ago due to medical reasons.

She loved sports with baseball, tennis and football being her favorites.

She  enjoyed the Game Show Network and never missed an episode of Jeopardy.

She collected all kinds of teddy bears, loved flowers, puppies and butterflies.

She is survived by daughters Lisa Bybee and Kristi Hite, son in law Gary Hite  and Grandchildren  Chris, Monica, DJ, Devin and Brandon.

She was preceded in death by her son Steve.

She will always be loved and missed.

No services will be held.

Arrangements entrusted to Weddle Funeral Services Stayton, OR.