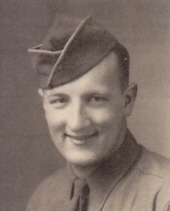 Obituary for HENRY HANK HIEBERT
6/17/1921 – 1/16/2013

Hank made the long awaited trip to heaven on January 16 at the age of 91. He was born in Aberdeen Idaho and moved to the Dallas area as a child. He was a member of the Evangelical Bible Church, which later became EMB church. There he met and later married Frieda (Ediger) in 1940. He served in WWII as a staff sergeant in Okinawa where he received a bronze star for heroic achievement. Settling in the town of Idanha, Hank began working in the timber industry, started the Idanha Community Church, and was a partner in the H&W Logging Co. He later became a contract mail hauler in the Santiam Canyon until finally retiring at the age of 82 in the Gates area. His sons Harold, Jim, and Gerald of Salem, and Don of Idanha, 6 grandchildren, 11 great-grandchildren, and 3 great-great grandchildren survive him. He was preceded in death by his  wife of 66 years, Frieda (2006). Viewing is Friday January 25th from 9-4 at Weddle Funeral home in Stayton.  Funeral service will be Saturday, January 26th at 11:00 am at the Gates Community Church. He will be greatly missed.

Arrangements entrusted to Weddle Funeral Services Stayton, OR.