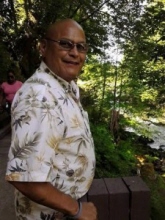 Obituary for Harold R. Hiebert
Harold R. Hiebert

December 16, 1948 August 27, 2015

Sheridan, Oregon

Harold walked on from this world in peace and comfort, while his wife Linda held his hand and kissed him. He was surrounded by family leading up to his passing. Harold was born at 5:00 p.m. at Bartell Hospital in Dallas, Oregon to Richard Martin and Vivian McCoy. He weighed just 5 lbs. 4 oz. and was 13 inches long. At birth, he was given the name Douglas McCoy. He was adopted by Henry Harold and Frieda Hiebert when he was just 10 days old, and they renamed him after his adoptive father.

Harold was raised in Idanha, Oregon where his dad had a logging business. Harold graduated from Detroit High School, where he enjoyed participating in sports. After school, he started his trucking career with his dad. He went on to serve in the Marines during the Viet Nam war. Harold married Sharon Johnson and together they raised three children; Glen, Angela, and Mary. They also lost a baby girl at 5 months.

Harold married Linda Lou Gibson and they celebrate their anniversary on August 18th. He gained three step-daughters and 9 grandchildren when he married Linda.

Harold made a career of trucking and worked many different trucking jobs; hauled logs, chips, glass, food, plants, and new trucks. He hauled mobile homes and modular buildings with his wife Linda as his pilot car. He worked many years with his brother Donald scrapping torch cutting down buildings no longer in use. Harold drove all the mainland states and Canada. His last job was hauling US mail from Salem to the coast.

Harold loved the Detroit Marina, eating (especially the free Monday night dinners at Spirit Mountain Casino in Grand Ronde), traveling, and flying, helicopters being a big interest to him. Some of his families favorite memories are Harold's laugh and "Harold humor", diet Dr. Pepper or Mountain Dew always in 2-liter bottles, the party barge and wave runners, the ocean, being spoiled when he could, Christmases, his help with two weddings and dressing the girls, playing rowdy, and riding in the truck. He was especially fond of eagles, and since his passing, Linda has had several encounters with the majestic birds, at times tipping their wings at her in a loving gesture from Harold in his place beyond this world.

Harold bought a motorhome, pickup, and boat as part of his bucket list. He took one short trip in the motorhome and never got the boat in the water, but having them was close enough. He went on a train ride and rode in a helicopter down into Mt. Rainier, all the way inside to the bottom where ash and steam were coming out.

Family was very important to Harold and they all got to tell him goodbye. Glen took him out in an electric wheel chair in the 26th and Harold went "fast", driving it himself out in the sunshine.  His daughter Mary came from Missouri for six weeks to take care of him toward the end of his life.

The Celebration of Harold's life will take place on Thursday, September 10 at 3:00 p.m. at Weddle Funeral Chapel in Stayton.

Harold was preceded in death by his birth parents, Richard Martin and Vivian McCoy Martin; adoptive parents Henry Harold and Frieda Jean Hiebert; sister Wanda; brothers David and Myron; a baby daughter; mother-in-law Shirley B. Bilbro; Sharon's parents Louise and Bill Mohr; and brother-in-law, William Johnson.  He is survived by his wife Linda; son Glen (Michelle); daughters Angela and Mary (Brad); step-daughters Judy (Tom), Jenn (Rich), and Jackie; 15 grandchildren; 3 great-grandchildren; siblings Twyla, Scott, Tim, Jim, Gerald, and  Donald (Sandy); sister-in-law Penny Nash Hiebert; and numerous nieces and nephews and their children.

Memorial Service with Military Honors to be held on Thursday, September 10, 2015 at 3 PM at Weddle Funeral Chapel. Reception to follow.

Arrangements entrusted to Weddle Funeral Services.