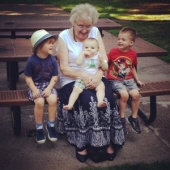 Obituary for Heidi Gehlen Millis
Born in Biel, Switzerland to Christian and Clara Reich, Heidi's family moved to Vernonia in 1924. There she attended grade and high school, then Benke Walkers Business College. She worked as a nanny and a bookkeeper. Heidi lived in Portland, Stayton, and Colorado before settling in Sublimity.

Another name for Heidi is "love", and she exemplified love. As "mom" to many beyond her own children, her passing will leave an unfillable void in the lives of those she loved. She took inspiration from her passion for gardening, drawing beautiful cards to share with loved ones. Her garden of friends was as beautiful as her garden of flowers. Heidi always had a positive attitude and was known for making lemonade from the lemons of life.

She was preceded in death by husbands, William Gehlen and Philip Millis; son, Patrick; step-son Sean; and sister, Lottie. Heidi will be dearly missed by her children Michael (Linda) Gehlen, Margaret (Maurie) Watman, Joseph (Rosie) Gehlen, William Gehlen Jr, Mary (Gregory) May, Kristina (David) Butters; step-children Flip (Karen) Millis and Scott (Karen) Taylor; grandchildren Derek, Allison, Aron, Willy, Stefani, Bryce, Garth, Kyle, Cari, Leah, Justin, Julie, Jodie and Jacob; and numerous great-grandchildren.

Prayer Vigil August 27 at 7:00 p.m. and Mass of Christian Burial August 28 at 11:00 a.m., both at Immaculate Conception Catholic Church in Stayton. Rite of Committal, St. Mary Catholic Cemetery. Reception following services at Anthony Hall.

Arrangements entrusted to Weddle Funeral Services.