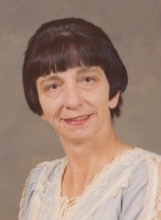 Obituary for Helen Marie Jones
Helen Marie Jones

December 26, 1938 February 4, 2018

Helen Marie Jones passed away on February 4, 2018 surrounded by her loving family. Helen was born December 26, 1938 in Green Brier County, West Virginia to Elsie and Oakey Jones. Helen was the 3rd of 10 children. The family moved from West Virginia to Oregon in 1953. Helen worked the majority of her life at multiple jobs eventually working for Marion County Building Maintenance until she retired. After a few years she got bored with retirement and went to work at Norpac where she enjoyed working with and talking to all the friends she made there. After a number of years working there, she again retired. Helen had many interests including reading, spending time with friends and family and she loved her visits to the casinos and her scratch-offs. Helen leaves behind her husband of 40 years, Charles and her children Donald (Carol), Wayne and Charlene as well as 8 grandkids, 7 great grandkids and 1 great, great grandson. She is survived by sisters, Cara of Salem and Velma of Salem, brothers Donny of Indiana, Vernon of Washington and Harold of California and many nieces and nephews. She is preceded in death by her mother Elsie, Father Oakey, daughter Margaret and grandson Jason as well as sisters (Arbella, Judy) and brothers (Melvin, Kenna). Her family invites all who knew her to a Celebration of Life on February 17, 2018 at 1:00pm at ZCBJ Hall, 38704 N. Main St., Scio. Services are being provided by Weddle Funeral in Stayton, Oregon.