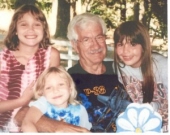 Obituary for Herschel Edwin Greenwade
Herschel Edwin Greenwade

July 29, 1931 May 27, 2016

Salem, Oregon

Memory of Me

I'd like the memory of me

To be a happy one,

I'd like to leave an afterglow

Of smiles when life is done.

I'd like to leave an echo

Whispering softly down the ways,

Of happy times and laughing times,

And bright and sunny days.

I'd like the tears of those who grieve to dry before the sun,

With all the happy memories

That I leave when life is done.

Herschel Greenwade was born at home near Whitney, Texas on July 31, 1931 to Jesse Lee Greenwade and Vera Lee Johnson, the youngest of three boys.  At the age of seven, his family moved to West Salem, eventually settling in the Dallas, OR area. Herschel graduated from Dallas High School where he met and married his high school sweetheart, Betty Craven.  Together they had three children, Melanie, Sally and Justin and enjoyed 27 wonderful years together.  Herschel joined the National Guard and was stationed in Fort Lewis, WA.  He was a devoted WWII historian and enjoyed numerous trips with family to Maui and Prineville Reservoir where he boated, water skied and enjoyed his Meyers rum and coke. In 1982 Herschel married Carolyn Paulsen at Napili Beach, Maui and became a loving stepfather to her children Kristina and Dennis.  They eventually moved to a small acreage in Spring Valley and loved to spend time with their three granddaughters, Mikaela, Danielle and Chloe who played in the fields and barn with the cows and llamas.  Herschel and Carolyn were married for 30 years and remained close friends. Herschel was preceded in death by his parents and two brothers, Loyd and Alton.  He is survived by his children, Melanie Bradley, Sally Crow and Justin Greenwade and granddaughter, Mikaela Greenwade and his stepchildren, Kristina (Jeff) Barbknecht, Dennis (Betty) Paulsen and grandchildren Dani (Cody) Miller and Chloe Barbknecht. There will be a celebration of life scheduled at a later date. Aloha Or – Farewell to you, one fond embrace, until we meet again

Arrangements entrusted to Weddle Funeral Services.