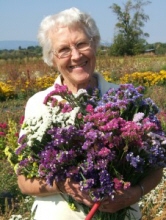 Obituary for Hilda S. Lee
Hilda Salma Shold Yantis Lee

December 17, 1922 November 9, 2016

Stayton, Oregon

Hilda Salma Shold Yantis Lee, born December 17, 1922, on the family homestead near Richland, OR, died on November 09, 2016 in Stayton, OR.  She was the youngest child of Ben and Sarah Weber Shold.  She graduated high school in Richland, graduated from Eastern Oregon College of Education, La Grande in 1942, and received a master's in Education at OCE, Monmouth in 1972.

Hilda taught the elementary grades in Muddy Creek OR, Milton-Freewater OR and at Stayton Elementary from 1962 until her retirement in 1987.  She taught pine-needle basketry through Chemeketa Community College and later the Salem Senior Center, retiring after 35 years at age 90. She was a member of the United Methodist Church of Stayton where she played the piano, organ, and arranged flowers for services.  She was a 66-year member of PEO (Chapter EU), led numerous Boy/Girl Scout and Camp Fire clubs, and served on the local arts committee.  She was named First Citizen of Stayton in 2003.

Hilda was an avid gardener and her home was featured on many garden tours.  She knew the scientific names of all the flowers and willingly shared her plants with others.  Her love of flowers started in college as she and EOCE's Nature Club would hike mountains picking flowers to press. Later, she would be known for her dried flower wreaths and arrangements.  She would also preserve, freeze and dry vegetables and fruits.

She enjoyed life and led by example—eating healthy, being gracious, and always tolerant.  You can still hear her say:  "If you do not have something nice to say about someone, don't say it."  Hilda was always doing for others, always giving and forgiving.

Education was very important to Hilda.  She was encouraged by her mother to constantly learn more. Even though they lived miles from civilization, her mother always had magazines to keep her informed about the world. Hilda was the leader of EOCE branch of the Association for Childhood Education.  All of her children went to college and many received advanced degrees. She inspired some of her children & grandchildren to be teachers, though some were inspired to be farmers and nutritionists.   At 93, she was doing crossword puzzles, jumble words and reading new authors.  PEO was important to her partly because of the scholarships that they give to women.

Travelling with family was a joy to Hilda:  Going to The Ranch in Richland; Fourth of July family reunions at the beach or Blakely Island; Camping out in the mountains of Oregon and the Grand Tetons; Showing her four girls Norway and Europe; Sojourning to Alaska where her daughter, Diane, and family lived; Travelling to Singapore with her brother, Walt; Visiting her Mikey & Deb in Thailand (Riding an elephant at age 82); Heading to West Palm Beach, Tulsa, and Chicago to watch her granddaughter compete; Checking out the Panama Canal; Going to ski Resorts in Canada and the Northwest for after- Christmas fun.

She married Richard A Yantis in 1946 and until his death in 1960, together raised five children.  In 1962 she married Robert E Lee and moved to Stayton, adding his three children to her brood.  He died later that same year.

Survivors include: children Sandy Kuykendall, Mike Yantis, Suzanne Fry, Christy Huddleston, and Tim Yantis and their spouses; step-children Robert Lee and Diane Brenner; daughter-in-law Debbie Lee;  sister-in-law, Lela Shold; eighteen grandchildren; fourteen great-grandchildren; and numerous nieces, nephews and their spouses.  She is preceded in death by her parents, her brothers Grant and Walter Shold, her sister Addaline Robinson, her husbands, and her step-son Doug Lee.

Funeral arrangements are by Weddle Funeral Home and condolences can be made at Weddle-Funeral.com.  A celebration of life will be to at United Methodist Church in Stayton on November 20, 2016 at 1:30 pm.  In lieu of flowers the family would appreciate donations to the United Methodist Church of Stayton in her honor.