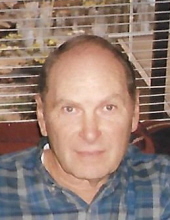 Obituary for Howard Russell Rose
Howard was born and raised in Lebanon, Oregon on a farm that has been in his family since 1865. He served in the United States Army as a mechanic in the 8th Armoured Cavalry.

Howard married Kathy in 1961. Over the years, he continued working as a mechanic for Southern Pacific Railroad, Tacoma Police Department and Lebanon School District School Bus Garage.

In 1972, Howard moved his family back to the farm where they took over the operation and cared for his parents. Howard raised cattle and hay, and he enjoyed watching his children and grandchildren grow up on the land that he loved. He loved The Lord, and was active in his church, Lebanon Foursquare.

Howard is survived by his wife, Kathleen (Schrag) Rose; his children, Grace (Procter) Dixon, John (Bernita) Rose and Sandra (Butch) Sturdy; his grandchildren, Tyrel (Linda) Rose, Joshua Dixon, Summer (Alex) Parker and Sam Dixon; his great grandchildren, Serenity Dixon, Chelsie and Juliet Rose; and his siblings, Martha Hurst, Alice Gallogly and Harvey Rose.

Memorial Contributions in Howard's honor can be given to: https://www.garysinisefoundation.org
or https://www.parkinson.org

A Celebration Of Life will be held on Saturday, January 4th, 3:00 pm at the River Center in Lebanon.


Previous Events
Celebration of Life
River Center
3000 S Santiam Hwy
Lebanon, Oregon 97355