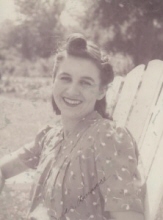 Obituary for INA M. DAMON
March 15, 1922 – January 3, 2013
Lyons, Oregon Resident.

Ina was born in Fall City, OR to Arthur and Margaret  Arrance.  She grew up in the area and married Leslie Damon on December 1, 1940.  She was a homemaker who loved to sew .  She enjoyed the outdoors and birds.  She and Leslie spent many happy hours traveling together.  She was a wonderful Christian woman who deeply loved her family.  She was loved by her children; Philip Damon, Priscilla Olson, Linda foster, Francis Damon, 12 grandchildren, 24 great grandchildren, several great great grandchildren.  Funeral Service: Tuesday, January 8, 1:00 P.M. at Weddle Funeral Chapel. Burial to follow at Fairview  Cemetery, Gates.

Arrangements entrusted to Weddle Funeral Services Stayton, OR.