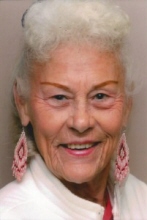 Obituary for Inez M. Anderson
Inez  M.  Anderson

June 18, 1931 March 20, 2016

Sublimity, Oregon

Inez Mae Anderson was born in Minnesota in 1931 to John and Ethel Reese. She was the eldest of thirteen children. She moved to Salem, OR with her husband Ed and son Steve in 1952.

They lived in Salem where they bought their first home and had sons Scott and Shawn. She and Ed divorced in 1984.

She was the grandmother to seven grandchildren: Jessica, Derek, Caleb, Sarah, Kayla, Chelsea and Jedidiah and a growing number of great grandchildren.

Inez managed the State Fair concessions for several years, worked at Ashton Photo in Salem and was always a homemaker.

She enjoyed her retirement, sharing her time between Cibola,AZ and the North Fork canyon area. Her mountain friends were the finest on earth and they were her second family. The outdoor life and comradery they created made her happy.

Inez spent her last three years in Sublimity due to health problems. She was 'out and about' with every opportunity and never gave up trying to be independent.

The Calvary Lutheran Church in Stayton provided spiritual enrichment that she held close to her heart.

She was preceded in death by her youngest son Shawn and his son, Jed in 2014. In addition, she lost a great granddaughter in 2001.

Services will be at the Calvary Lutheran Church in Stayton on Wednesday, March 30th at 11 a.m. Burial will follow that afternoon at Fox Valley Cemetery in Lyons, OR.

Arrangements entrusted to Weddle Funeral Services.