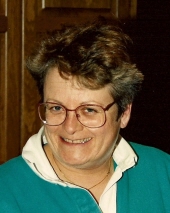 Obituary for JANE E. BROWN
August 17, 1951 December 23, 2013
Sublimity, Oregon

Jane E. Brown of Sublimity, OR was called home to be with the Lord December 23, 2013. She was born August 17, 1951 to Del and Marion (Maizie) Shaw at Boise, ID. She grew up in Boise moving with her family to Portland, OR where she graduated from Sunset High School. She attended Oregon State University where she had her eye on pursuing a career in Radiology. A twist of fate detoured her interests with employment at Boise Cascade Timber and Wood Products division. Her father, Del, had been in the lumber sales business for many years and helped guide her decision to follow in his footsteps.  She loved the work and valued the many personal relationships she developed over the years.  In 1986, she met her husband to be, Roger Brown. After a short courtship they married and were together for 27 years until her passing. They have lived in Oregon for most of the time they were together and enjoyed many times at the beach or in and around the Mount Hood National Forest. Living together in Oregon has truly been an adventure.   Jane and Roger have one son, Andrew whom she loved very much. She was involved in all the things in his life and was an integral part of his successes.  He is now a student at Chemeketa Community College.  She was diagnosed in 1991 with Multiple Sclerosis. The courage and strength she had shown in dealing with this chronic disease is an example of how the spirit can prevail in times of adversity. She may have been frustrated with her condition but she never lost the will to continue and a positive attitude we can all learn from. Recently she had a serious heart problem and major surgery. She had recovered and was making excellent progress and was feeling the best she had in a long time. Then the Lord decided it was time for her to come home.  She was a past member of the El Korah Shrine (Boise, ID) Ladies of the Oriental Shrine and Lumber Jills.   On Christmas Eve, Roger and Andrew were having dinner when a bell on the Christmas tree suddenly chimed. . They looked at each other and immediately knew what had just happened. Their Angel Jane had just received her wings.   Wife, Mother, Best Friend, Confidant, Jane is survived by her husband Roger of Sublimity, son Andrew of Salem, sister Ann Gray (Bob) of Minden, NV, nieces Julie Gray (Ed) Carson City, NV, Susie Gray of San Diego, NV, Steven Fedler (Jennie) of Salem, OR,  Elizabeth Walker (Art) of Wichita, KS, Sue Butterfield (Matt) Dallas-Ft Worth, TX and Sister In-law Leslie Brown-Stankiewicz (Jeff) Priest River, ID. Her lifelong friend Robyn Symank of Portland, OR has been of great comfort to her family during this difficult time. Thank you Robyn. Our heartfelt thanks also to the Paramedics and Staff at Santiam Hospital who did everything they could to try to revive Jane. She was proceeded in death by her parents Del and Maizie Shaw and older sister Susan Fedler (Eldon).

A Viewing will be held Saturday, December 28, 2013 from 9:00 to 1:00 with a Funeral Service following at 2:00 p.m. both at Weddles Funeral Services in Stayton, OR     A memorial service will follow in Boise, ID in the spring at a time and place yet to be determined.

If you wish to make a charitable contribution in her name please consider the National Multiple Sclerosis Society Oregon Chapter or Shriners Hospital for Crippled Children, Portland Unit.

Arrangements entrusted to Weddle Funeral Services Stayton, Oregon.