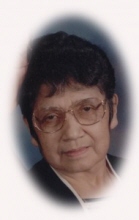 Obituary for JO ANN S. SEARS
JoAnn Sears, 72, of Stayton, passed away on Dec. 31, 2012. She was born in Talihina, OK on Dec. 21, 1940.  She was the daughter of Simon and Ethel Watson.  JoAnn grew up in Oklahoma and moved to Oregon where she met and was married to Roger Sears on April 29, 1963 in Vancouver, WA.  They made their home in Stayton.  She had worked as a Certified Nursing Assistant for Fairview in Salem for 13 yrs. before retiring.  She enjoyed crocheting, ceramics and baking.  Roger preceded her in death in 2005.  She was also preceded in death by her brother, Norman and sister, Donna Roebke.  JoAnn is survived by her sons, Terry ( Kathy) Sears of Lyons, Jeffery (Kris) Sears of Mehama; daughter in law, Mary Sears of Stayton; brothers, Truman Watson of Stayton, Johnnie Watson of Aumsville; sister, Sharon King of Stayton; grandchildren, Kevin, Kelsie and Cody.

Visitation will be held Friday, Jan. 4th from 9:00 am to 1:00 pm, with Funeral Service following at 2:00 pm both at Weddle Funeral Chapel, Stayton.  Vault interment following at Lone Oak Cemetery, Stayton.

Arrangements entrusted to Weddle Funeral Services Stayton, OR.