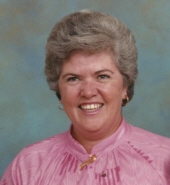 Obituary for JO WANDA ORMAN
August 20, 1941-June 9, 2012

Jo Wanda Orman was born August 20, 1941 in Moyers, Oklahoma to Ruby & Eddie Johnson.  She passed away June 9, 2012 at the age of 70. She grew up in Oklahoma where she met and married her husband Louis and had 2 children. In 1966 they all moved to Salem, Oregon where she worked and lived the rest of her life. She was a wonderful wife, mother, grandmother & great-grandmother, sister & aunt.  Her hobbies included crocheting, reading romance novels and word find puzzles. She enjoyed scary movies, feeding squirrels, country music and spending time with her family.  She is survived by her husband Louis, children- Tammy (Tim) Lenz, Louis Wayne (Susan) Orman, Grandchildren-Heather (Josh) Gregory, Ashley Orman, Eric Fetzer, Chad Orman, Great granddaughter- Kiera Gregory, siblings- Lula(Lefty) Miller, Glenda Widby, Jamie Johnson, Patsy (Jerry) Koenig, Wayne Johnson and many more family & friends. May the good Lord keep her in his loving arms.   Many special thanks to Aunt Lula & Uncle Lefty, Dr. Carp & staff, Dr. Pierce & staff, Willamette Valley Hospice & staff, Marion Estates & staff, and Salem Hospital Blg B 5th floor staff for showing great care and kindness to our mother.

Visitation will be held on Friday, June 15th between 9-12am at Weddle Funeral Services 1777 N. Third Ave Stayton, Oregon 97383 (503)769-2423 to be followed by Graveside services at 2:00pm at Stipp Cemetary- Macleay Rd SE Salem, Oregon 97301 (503)364-1300

Arrangements entrusted to Weddle Funeral Services Stayton, OR.