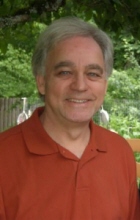 Obituary for JOHN E. HERMSDORF
John E. Hermsdorf
December 8, 1950 January 3, 2015
Aumsville, Oregon

John Edward Hermsdorf was born to Edna Mae and Russell Hermsdorf in Pasadena, California.  His boyhood home was in the nearby town of Arcadia where he grew up playing baseball and basketball with his two younger brothers and neighborhood friends.  In 1968, John graduated from La Salle High School and went on to earn a Bachelor's Degree in Economics from Loyola Marymount University in 1972.  After deciding to escape from the masses in Southern California, John moved to Salem, Oregon in 1989 to find a job and home for his bride Laurie, whom he married a year later.  They settled down in the countryside near Aumsville in time for the birth of their daughter Allison.  This year would have marked John and Laurie's 25th wedding anniversary.  After a time, John set up a small janitorial service with his brother-in-law which still operates in the Salem area.

John is remembered as being friendly, professional, modest, faithful to his family, a good provider, and always liking a good joke.  He loved listening to music, whether it was a Michael W. Smith concert DVD or the classical piano pieces that his daughter performed at recitals.  He even taught himself to play guitar.  John took pride in his home, faithfully cleaning the bathrooms and working in the yard.  Though he enjoyed bike riding and hiking, he found little time to do so due to his business.

Two years ago, John was diagnosed with squamous cell carcinoma, an aggressive form of cancer located in his jaw, neck, and mouth.  He first chose Gerson therapy, a naturopathic cancer treatment, to treat his condition but eventually decided to pursue traditional radiation and chemotherapy.  Death was never an option to him.  He remained optimistic that he would be healed but God had a different plan.  During this time, John earnestly sought the Lord through studying his Bible and various devotionals his wife would read to him.  His hope in Jesus increased through the years and was strong to the last.  We are proud of his courage during his battle with cancer.  Though he carries his battle scars to the grave, his pain and suffering have been healed in the arms of Jesus.  He was much loved and will be missed by many but we know he is rejoicing in heaven, being whole once more.

Funeral Services for John Hermsdorf will be held on Monday, January 12, 2015 at 11:00 A.M. at Weddle Funeral Chapel

Private Burial will be at Lone Oak Cemetery in Stayton, Oregon

Arrangements entrusted to Weddle Funeral Services Stayton, OR.