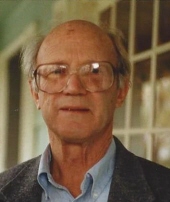 Obituary for JOHN FRANKLIN ROBERTS JR
February 11, 9121 September 19, 2013

Franklin  Roberts was born in Seattle, WA on February 11, 1921, and died at his  residence in Sublimity, OR after a long battle with cancer. He was the  son of John Franklin Robison Roberts and Dorothy Francoeur Roberts.  He is survived by his wife of 63 years, Shirley Helen Beal Roberts,  his two daughters, Diane Roberts Wilson and Joenine Roberts, and his  son Christopher James Roberts, as well as 6 grandchildren. A star athlete  and fine student at Lincoln High School in Portland, OR, Mr. Roberts  graduated from the University of Portland in 1949 with a Bachelor of  Arts degree and earned a Masters of Arts degree from Western Washington  University in 1974.  He went on to teach foreign languages at various  Oregon high schools: Lake Oswego, Astoria, Pendleton, and Medford. He  retired from teaching in 1976 and spent the next years renovating homes,  painting and writing poetry.  Mr. Roberts was a WWII veteran and  a devout Catholic who was always happiest singing in the church choir.  A gravesite service will be held at Mt. Calvary Catholic Cemetery in  Portland, where he will be laid to rest near several other members of  his family.

Arrangements entrusted to Weddle Funeral Services Stayton, OR.