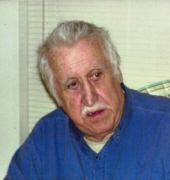 Obituary for JOHN L. COLLIER
JOHN L. COLLIER
October 29, 1932 – September 22, 2015
Turner,  Oregon

John Collier was born in Red Bank, Oklahoma on the 29th day of October, 1932. The son of Charles and Maddie Collier.  John passed away on Tuesday, September 22nd.  He was 82.  In 1959, John was married to Freida Stepper in Stevenson, Washington and they made their home in Turner. He had worked in the sawmill for Willamette Industries before retiring in 1994.

He enjoyed hunting, cutting wood, occasionally fishing, but most of all he enjoyed spending time with his grandchildren. In addition to his beloved wife, Freida, he is survived by his children, Steve Collier, Diane Easter, Donna (Steve) Barrow, Dolores (Jim) Burson, Patricia (Darrell) DuMond; and numerous grand and great grandchildren. Visitation will be Friday, September 25th from 9:00 am until 5:00 pm and  Funeral Service will be held Monday, September 28th at 11:00 am both at Weddle Funeral Chapel, Stayton. Interment will follow at Twin Oaks Cemetery, Turner, OR and a potluck reception will follow at the Turner Christian Church, Turner, OR . For more information please call Patricia (503)910-5600 or Diane 541-971-1484

Arrangements entrusted to Weddle Funeral Services.