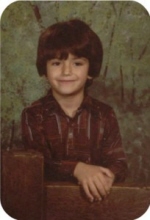 Obituary for JOHNNY RAY COLEMAN
August 1, 1973 October 25, 2012
Turner, Oregon

Johnny passed away on October 25, 2012.  Johnny was born to Lyndell Sonny and Nancy Coleman in Salem, Oregon.  He attended Cascade High School and studied at Chemeketa in Salem.  He worked at Coleman Calbag Recovery in Salem.  Johnny was a member of the Confederated Tribe of Grand Ronde and enjoyed attending Pow Wows.  He also enjoyed Fishing and Hunting and family gatherings.  John is survived by his Mother and Father, brother; Randy Coleman of Turner, Uncles; Wayne, Bill, Tom, Jerry and Bruce, Aunts; Leveta, June, Theresa, Marlena, Pat, Janice and Johni and many Cousins, Nieces and Nephews: Ryan, Randy, Amanda, Amber and Rachelle. He will be missed by his many friends also.  Funeral Service will be Tuesday, October 30, 2012 at 11:00 A.M. Weddle Funeral Chapel, Stayton with burial at Grand Ronde Cemetery.

Arrangements entrusted to Weddle Funeral Services Stayton, OR.