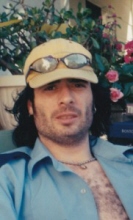 Obituary for JON PAUL KALIN
October 13, 1970 – November 2, 2012

Jon is survived by his brother Seth Kalin, sister Karen Kalin, mother Sandra Kalin and father Harry Kalin.  Jon also is survived by Elizabeth Gossman his fiancé', his bio-dad Jon Pullen and Aunt Lyn Pullen-Schmidt.

Jon was a warm and caring person who enjoyed cooking, gardening, camping and anything to do with the arts.  He spent his work life in a variety of occupations, his favorite being a seasonal woodland firefighter.  He spent many years fighting fires throughout Oregon, Montana, Idaho and Wyoming.  In the off season he worked as a cook in a variety of popular Oregon restaurants in Corvallis and Portland.  Most recently he worked as a commercial and industrial painter at Shields Painting Company in Portland.

A gathering to Celebrate Jon's life is planned for November 23rd at the Canby Grand Central Station in Canby, Oregon.  Family and friends are encouraged to come and share memories of Jon from 3:00 – 6:00 pm.

The family is requesting that people wishing to remember Jon in a special way make a contribution to:  Cascadia Behavioral Health Services  https://secure.commonground.convio.com/CascadiaBHC/testdonation/

(Cascadia Behavioral Healthcare has served over 15,000 low-income Oregonians in the past year. They have helped people recover from mental illness, addiction, health problems and homelessness.)

Arrangements entrusted to Weddle Funeral Services Stayton, OR.