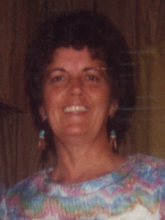 Obituary for JOY M. HALL
JOY  M.  HALL

Feb. 29, 1932 Dec. 6, 2015

Stayton, Oregon

Born Joy M. Wise in Eastland, Texas on 29 February 1932, Joy Hall passed away at 83 years old on the night of 5/6 December.

Joy worked at Moores Business Forms for over 20 years before retiring. She was an avid seamstress with a bright smile, and actively served fellow members in her church. She always gave her time and effort to those in need.

She raised four children and four grandchildren with her husband of over 60 years, who passed in 2009.

She is survived by her four children—Victor Hall of Chandler, AZ; Michael Hall of Salem, OR; Ginger Korkow of Salem, OR; and Wendy Umsted of Stayton, OR—ten grandchildren and nine great grandchildren. Visitation to be held on Monday, December 14, 2015 at Weddle Funeral Chapel from 9am-4pm. Private vault interment to take place in Willamette National Cemetery.

Arrangements entrusted to Weddle Funeral Services.