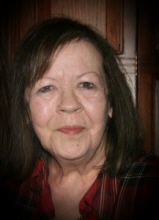 Obituary for Janet L. Sautter
Janet L. Sautter

March 28, 1948 April 19, 2014

Janet L. Sautter (Formerly Janet Taylor) passed away April 19, after a heroic battle with cancer. She died peacefully in the presence of her children, Rene' Muzechenko of Salem, Donnie Muzechenko and his wife Sara of Silverton, and William Kuempel of Salem and her grand daughter Madisson. Janet was 66 years old. She was born in Galax, Virginia. Janet was the daughter of Paul, a Babtist minister, and Hazel, a gregarious native american beauty. Janet is survived by her sister Mary Britt. She was preceded in death by her brother Eugene Chapman and her sister, Barbara Vinson. Janet and her family "followed the crops" in the 1950's and settled in the Willamette Valley where she was raised in the Aumsville area. She married Don Muzechenko, who enlisted in the Army and fought in the Vietnam War. She traveled with Don visiting many places like Ireland, Austria, and Germany. Together they had Rene' and Donnie. Later in her life, she married Walter "Buddy" Kuempel and together, they had Willie. The family resided in Stayton for many years. Janet worked for Norpac in Stayton for close to 30 years. She took great pride in her jobs at Norpac, where she worked as a forklift driver, freezer driver, and line helper. She made many friends, worked hard, and enjoyed her life. Family was important to Janet. She was the grandmother of Shelby, Lexey, Peyton, Madisson, Mason and Ashlynn. Janet enjoyed cooking, drawing, cross-stitch, driving fast, going out to eat with family and friends. She also loved the beach and going for long drives. Janet will be greatly missed by her family, her friends, and her community. Janet will be laid to rest at Lone Oak Cemetery in Stayton after her service at Weddle Funeral Home in Stayton on Sunday, April 27 at 2:00pm. Viewing will take place from noon until 4:00pm on the same day. The family is suggesting financial contributions be made in lieu of flowers. Donations can be made directly to the funeral home, or online at http://www.gofundme.com/8impuo?preview=1

Arrangements entrusted to Weddle Funeral Services Stayton, Oregon.