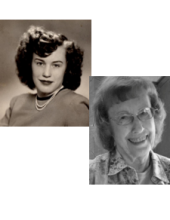 Obituary for Jerry Ann McFall
Jerry Ann (McNeel) McFall was born in Colorado in 1929.  Three weeks later the Great Depression began.  She was teased about that juxtaposition for her entire life. Jerry was the youngest of six children, growing up on a homestead in Glendale, Oregon. She graduated highschool at the end of World War II and went to work as a telephone operator in Roseburg. Walking in to the office dressed in her best red dress (think Manfred Mann singing 'There she was just a-walkin' down the street, singin' "Do wah diddy diddy dum diddy do,"') she was seen by her supervisor's brother, "Scotty" McFall, and they were married soon after.

She became a classic 50's housewife, reigning over her home in Klamath Falls, where she raised 3 children, many dogs, and the occasional cat. She was a good cook, and her Parker House Rolls were legendary. In the mid-1960's the family re-located to Eugene, where she went to work for the local drugstore. As head cashier, she became known in the neighborhood as "The Lady in the Pink Sweater," the one who kept a sharp eye out for small hands trying to filch candy bars. 

She changed her career path in the 1970's to work for Lane County until she retired, but like her husband, retirement didn't really suit her – she was soon back to work taking tickets at the county fair or U of O athletic events, or volunteering as a greeter at the hospital in her spare time.When you asked her what was important in life, she would answer, "Hard work." That says it all.

Jerry finished her life living at Regency Court Memory Care in Corvallis, where she received excellent care and attention, kept the staff on their toes, and made sure the birdfeeder was re-filled often. She is survived by one daughter, two sons, six grandchildren, and two great grandbabies. Her family wishes to warmly thank Lumina Hospice of Corvallis for their invaluable assistance, and asks that you make a donation in Jerry's name to them in lieu of flowers.