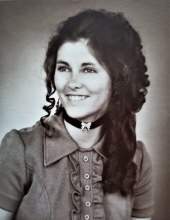 Obituary for JimyeJean Hutchins
JimyeJean was born on March 12, 1953 in Tamuning, Guam, to Jim and Shirley VanHoose. As a young child her family would move back to the mainland and they would settle in San Jose, California. When JimyeJean was a freshman in high school her family would relocate to Turner, Oregon. She would attend and graduate from Cascade High School.

JimyeJean would marry Mark DeRosia in 1972 and they would have the first son Mark, followed by daughter Saydyie a few years later. Mark and JimyeJean would divorce. She would marry Steve Hutchins in 1979 and they would live in the Stayton area, until they later divorced.

JimyeJean would work for a short time as a mortgage loan officer, but most of her life would focus on being a homemaker. JimyeJean also would open her home to anyone who needed a place to stay or meal to eat.  JimyeJean was a lifelong fan of Elvis Presley and would spend time gardening in her yard. She would often spend time reading her bible.

JimyeJean passed away on June 14, 2021 at age 68 at Santiam Hospital. She will be remembered as a devoted Christian woman with strong faith. She was preceded in death by her parents. She is survived by her children, Saydyie DeRosia and Mark DeRosia II; siblings, Robert, Jim, Sabrina, Derek; 8 grandchildren, Brittany, EmmaAnn, Christopher, Jacob, Sydney, Aiden, Isabella, Maycee; and 1 great grandchild, Phoebe.


Events