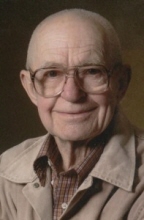 Obituary for Joseph "Joe" Francis Spenner
Joseph "Joe" Francis Spenner

October 23, 1921 – December 25, 2016

Stayton, Oregon

Joseph "Joe" Francis Spenner passed away peacefully on Christmas Day in Salem at the age of 95. Joe was born on October 23, 1921 in Stayton to Francis and Mary Spenner. 

He was in the first graduating class at St. Boniface High School, Sublimity, OR in 1940.

He lived in the Sublimity area all his life, growing up on the family farm with three brothers William, Benjamin and Vincent.

Joe worked St. Boniface High/grade schools as the custodian/maintenance man for several years.  He then became the custodian/maintenance man when Regis High School opened in 1964.  Joe retired from Regis in 2008 with over 50 years of service to Catholic Schools.

Joe was not only skilled at maintenance, he would also become a mentor for hundreds of students, devising and helping them with various science projects.  Under his guidance, students constructed a wide variety of projects, such as electric cars, a telescope, parabolic reflector, hovercraft, model airplanes, air boat, an electrostatic generator and the list goes on. At his retirement from Regis, Joe said, "I'll go on here forever. I'll always be here in spirit, at least."

In later years, Joe travelled to India several times to assist Catholic priests in building churches and a dispensary.

He was an active volunteer at St. Boniface and at yearly Right to Life rummage sales held at St. Joseph's in Salem.

Joe was preceded in death by his parents, brothers and niece Linda Spenner.

He is survived by his nieces Pauline (Alan) MacDougall of Beaverton, Carol Spenner of Sublimity and nephews Mark (Betsy) Spenner of Sammamish, WA and Clem (Doris) Spenner of Salem.

Rosary will be held at 7:00 pm on Thursday January 12th at Regis High School.

A funeral service is scheduled for Friday, January 13th at 2:00 pm at St. Boniface Church in Sublimity with a reception following the service.

In lieu of flowers, memorial contributions may be made to:  Regis High School, St. Boniface Church or Oregon Right to Life.